Travelling to Providence for this year's JLC Live? US Tool & Fastener will have a booth upstairs at U811, right next to the drywall demo area.
JLC LIVE New England is the PREMIER regional industry event for residential construction. Learn from industry experts at LIVE installation clinics and exhibitor-led product demonstration as well as gain industry knowledge and training in our conference program.
Forge new relationships with product manufacturers on the exhibit hall floor and fellow industry professionals in our conference program and during our scheduled networking events.
SHOW DATES
Exhibit Hall: March 23 - 24, 2018
Conference: March 22 - 24, 2018
EXHIBIT HALL HOURS
Upper Level Exhibit Hall opens at 8:30 a.m. each day
Friday, March 23 - 9:00 a.m. - 5:00 p.m.
Saturday, March 24 - 9:00 a.m. - 3:00 p.m.
We will be featuring all of your favorite brands like Festool, Woodpeckers, Kreg, Stabila, Veto Pro Pac and more! Stop by Booth U811 to enter for a chance to WIN one of two amazing prizes!
On Day 1 (3/23/18) we will be giving away one brand new Festool ETS EC 125/3 EQ-Plus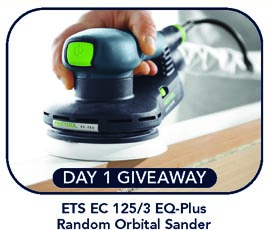 On Day 2 (3/24/18) we will be giving away a brand new Kreg Mobile Project Center.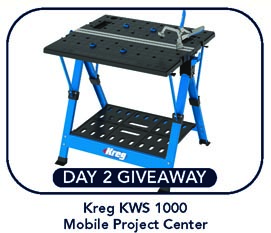 JLC LIVE GIVEAWAY RULES
There are two ways to enter:
1. Stop by our booth at JLC LIVE New England and scan your badge
2. Take a picture in our booth and post to Instagram with the hashtag #USTFJLCLive and tag us @shopfestool
PRIZES
Day 1 - Festool ETS EC 125/3 EQ-Plus (contest drawing is for one unit)
Day 2 - Kreg KWS 1000 Mobile Project Center (contest drawing is for one unit)
To get your complimentary pass to JLC LIVE New England 2018 follow this link: http://nvyt.es/49b3726e
We hope to see you there!