Sjöbergs is the first and last word in top-quality wood workbenches, but that doesn't mean there are no exciting options for a compact space, tight budget, or simple garage workshop. Here's your guide to the full spectrum of the Sjöbergs lineup, all the way from the efficient and handy Hobby models to the impressive Elite benches for the heaviest-duty work.
All-Around Excellent Workbenches

Nordic Plus 1450
The Nordic line gives you the size you need at a price you can afford. The solid Scandinavian birch working surface and Nordic pine trestle will provide you with years of durability under normal use and the smooth worktop is perfectly rigid with just over 1" of thickness at the center of the table. This is the perfect Sjöbergs bench for a medium-sized shop and serious woodworking enthusiasts. There are four standard vise locations that can be rotated to suit both left and right-handed users. Position them as dual front-mounted vises for lengthy boards and jointing work, or as dual tail-mounted vises for an impressive 63" clamping capacity.

Scandi Plus 1425
The Scandi line brings lovely beech wood to the Sjöbergs bench design. Use your holdfast ST11 in any of the top or trestle dog holes and enjoy the lasting durability and beauty of a beech benchtop for discerning woodworkers. The top is thicker and more robust than the affordable Hobby models, so you can trust it with heavier work for years to come.

Scandi Plus 1825
The 1825 model is versatile, durable, and large enough for demanding professional woodworking projects. The pre-assembled frame is solid beech and the 1-½" thick center of the worktop provides serious reassurance for keen craftsmen. You can't go wrong with 76 x 30 inches of space to lay out serious projects over a lifetime of reliable use.
---
Premium Heavy-Duty Workstations

SB-119 Professional Workbench
At this level, your Sjöbergs bench is fully equipped for work on fine furniture, heavy carpentry, and other serious woodworking. The many bench dog holes that dot the worktop and legs of the SB-119 allow for precise angles and detailed craftsmanship — and they've fully compatible with all standard size Sjöbergs accessories. New at this tier of the Sjöbergs bench portfolio is an impressive shoulder vise that has no hardware in the way to interfere with long workpieces and allows for off-center clamping without any racking.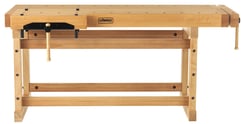 Elite 2000
Sjöbergs Elite models are the heaviest and highest quality workbenches on the market. It's hard European beech, through and through, treated carefully with premium oils for top-notch durability and performance in the shop. This is a workbench built by professionals for professional-grade results. You'll never have to worry about replacing a Sjöbergs bench that offers 500-pound beech butcher block performance with a generous 79 x 30-inch working surface.

Elite 2500C
The 2500C is the cream of the crop among Sjöbergs benches. It's the largest and heaviest bench in their lineup — almost 8 feet in length with a worktop that's an incredible 3-¼" thick. The Swedish designers spared no expense on the fine oil-enriched surfaces and smooth, fast clamping speed offered by this premium bench. The specialty vises on the 2500C give you clamping power beyond compare with an impressive 23-½" of width.
Compare these Sjöbergs workbenches and more at the US Tool & Fastener online shop, where we stock a variety of Sjöbergs workbench accessories and shelving options so that you can outfit the ideal bench for your space and your needs.