If you use blades for your workshop or kitchen, you know how frustrating it can be to rely on dull edges. Fortunately, Tormek has sharpening devices for every size and type of knife under the sun.
Tormek sharpening tools are designed to keep your knives and other cutting tools in top condition by providing a precise and consistent sharpening result every time. For example, the Tormek T-8 sharpening system uses water-cooled sharpening stones to prevent overheating of the tool, which can cause damage or reduce the lifespan of the blade.
The adjustable angle guide ensures the correct sharpening angle is achieved every time, while the honing wheel polishes the edge to a razor-sharp finish. With Tormek sharpening tools, you can maintain the quality and sharpness of your knives and other cutting tools, extending their lifespan and ensuring they perform at their best.
Keep reading to learn some of our most frequently asked questions about the Tormek line.
---
1. What's the difference between the T-8 and the T-4 sharpening systems?
Tormek T-8 has a stronger motor capacity and can run continuously, compared to the Tormek T-4, which has a limited duration of 30 minutes. The bigger machines also have a larger grindstone (250 mm diameter compared to 200 mm) and a larger honing wheel (220 mm diameter compared to 145 mm). Enclosed with the T-7 is the Square Edge Jig SE-76 for wood chisels and plane irons and the Truing Tool TT-50, which helps keep your stone clean and efficient.
2. Why do I need to hone my tool after sharpening?
When sharpening, you will notice a burr (or wire edge) develop on the upper side of the edge. This needs to be removed to get a reliable sharp edge. You do this on the Tormek machine with the leather honing wheel combined with honing compound for a nice finish.

(If you do not remove the burr, it will break off as soon as you start using the tool, leaving you with a blunt, torn edge.)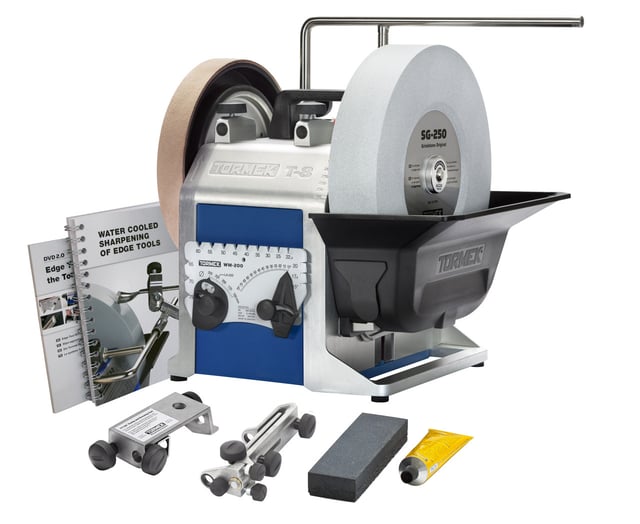 3. Can I use a diamond wheel to sharpen scissors?
You can sharpen scissors on the diamond wheel, but you have to be careful and use light grinding pressure. Scissors have a steep angle, and if you press too hard, you can damage the diamond coating.
4. Do I need to leave my sharpening system on after each use?
Some folks think that they need to leave their T-4 or T-8 on for around 30 minutes after the machine finishes its job. We're here to tell you - that's really not necessary.
There are plenty of myths surrounding the deterioration of the grindstone: that it might turn into an oval shape when hanging on the machine, that it might get soft from water, or that it could even swell when left in the water.

In reality, when you keep the grindstone in the water, it evaporates through the stone due to the capillary effect. After each sharpening, lower the water trough, and you'll be all set. Remember to store the stone at a temperature above 32 degrees Fahrenheit to avoid freezing damage.
5. How much pressure should I apply on each side of my knife? Will it affect my sharpening angles?
How much pressure you use will not affect the angle, but it will affect the amount of steel removed during sharpening. You probably have the same angle on both bevels if you didn't change any settings between switching sides.

If you put more time or pressure on one side of the knife, you will remove more material from that side, which will give you a wider bevel on that side, and the apex will be off-center. Therefore it is important to put the same amount of (low) pressure on both sides and for the same amount of time. If you count the number of pulls through the guide for each side you sharpen, you know you remove the same amount of material from both sides of the knife and will get nice symmetrical bevels.

Since you have one bevel wider than the other, you first have to correct this by sharpening the smaller bevel until both bevels are even and meet up in the center of the blade.
6. How do I properly change the grinding wheel?
Try to take out the main shaft from the machine and clamp it with protection in a vise and try to turn the nut with a pipe wrench, also with some protection so that you don't leave marks on either shaft and nut. You have to clean both parts and free them from the stain. In the worst-case scenario, there is a spare part MSK-250 (for T-8 models or older) and the MSK-200 (for models T-4 or older). This is the main shaft with all parts you need to exchange your main shaft with the stainless steel one.

Your Trusted Tormek Experts Are @ShopUSTF
Tormek has kept our tool blades sharp for years of prolonged use. Contact us for a demo, and we'll book you for a live demonstration at our US Tool and Fastener store. You can check out our top tools, including Sjobergs workbenches, SawStop table saws, and Bora tools and speedhorses. Plus, you can try out our newest latest Festool releases in person at our Worcester, MA, location.
You can also follow us on Instagram for the latest shop tools and tips on finding the best woodworking accessories!