The legendary SkilSaw worm drive offers maximum durability and power for rip cuts, plunge cuts, and mitered work on a wide variety of saws. It's widely praised by contractors, professional workshops, and home craftsmen alike. But why? Let's take a peek under the hood and discover what makes a SkilSaw worm drive so exceptional.
What's a "Worm Drive?"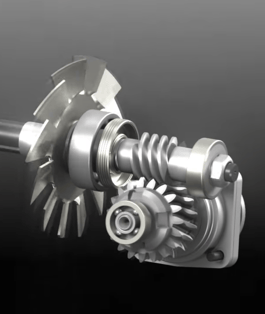 When it comes to saw motors, power is delivered to the rotating blade in one of two ways: with gears that run parallel to the saw blade or at a 90-degree angle with a worm shaft — essentially a cylindrical gear shaped like a screw. A worm drive is any motor that uses a "worm" (the screw) and a thick-toothed "worm gear" to change the direction of rotation in the drive.
These heavy-duty drives are incredibly durable and long-wearing compared to traditional gearboxes, mainly due to thick-set teeth and stability of the narrow worm gear design. Worm drives also tend to rotate at a more measured pace than other designs (such as the gear-on-gear action in "sidewinder" saws), but with a heck of a lot more torque.
How Does the SkilSaw Worm Drive Compare With "Sidewinder" Drives?
Parallel-gear, side-mounted "sidewinder" style circular saws provide high RPMs and a compact, boxy saw shape, but much less torque. They also usually position the saw blade on the right-facing side of the tool (nice for lefties, but harder to follow cut lines for right-handed people).
A rear-mounted worm drive motor—like the SkilSaw Sawsquatch circular saw—makes for a longer, narrower tool with a blade on the left side of the motor when the tool is held in hand. Contractors widely prefer SkilSaw worm drive saws for their excellent visibility for righties, better leverage for plunge cuts, longer reach, access to tight spots (where a sidewinder motor would be in the way), and—best of all—incredible torque for high-stress ripping, day-in and day-out on the jobsite.
An interior view of the SkilSaw Worm Drive Circular Saw motor.
The rugged, long-lasting worm gear design has been perfected in SkilSaw's respected lineup of no-nonsense, full-throttle worm drive saws. The raw muscle of the SkilSaw worm drive gives their saws incredibly high load and shock capacities. The tougher the project, the more you'll appreciate the boosted torque and nearly indestructible motor of a SkilSaw.
Which SkilSaws Use the SkilSaw Worm Drive?
SkilSaw made its name building saws with high-performing worm gear designs. You'll want to check out their lightweight magnesium professional-grade circular saws, of course, but don't forget about these other SkilSaw worm drive standouts!
Who doesn't want a 16-5/16" magnesium blade on a powerhouse worm drive saw? The Super Sawsquatch uses the same trusty worm drive on a bigger, badder saw that rips through 6X or lumber up to 6-1/4" thick in a single cut.
Don't underestimate the TRUEHVL battery pack. It'll charge to 100% in just 1 hour and last all day long with intelligent heat dissipation and power management. Even better, the rear-mounted motor and battery give this SkilSaw worm drive circular saw an ergonomic and well-balanced feel compared with front-heavy sidewinders.
Th is carpentry chainsaw uses the SkilSaw worm drive for powerful rips at 16" depth, making impossible cuts possible. Maintenance is simple with the self-lubricating full house chain and durable magnesium construction, and you can't go wrong with the top-end torque of a SkilSaw worm drive.
Look at that thing go!
This is a jobsite saw for maximum productivity in a lightweight, on-the-go design. Transport a stable, all-metal workstation right to the work and make 25" rips and 3x slices possible wherever you go.
SkilSaw made no compromises in designing this durable, compact beast with a carbide blade and die-cast aluminum tabletop. You can even get it packaged with a rugged, dual-wheeled stand that will take on stairs, slopes, and rough terrain with ease.
Interested in SkilSaw Worm Drive Saws? We've Got You.
Browse the wide selection of SkilSaw tools in our US Tool & Fastener online store, including these four fantastic worm drive saws! We're highly selective in the tools we carry, and SkilSaw is a brand our in-house experts trust alongside other customer favorites like Festool, SawStop, and Fein. Shop with USTF and you'll always find the right tool for the right job—no more and no less.