More than almost any other undertaking, building and remodeling projects involve a multitude of tools and techniques to do right. Whether you're tearing down a wall, building a wall from scratch, laying a new floor, or gutting an entire home, remodelers need to make sure they have the right tools for the job.
This is especially important when considering how much time, money, and manpower a given project will take to see through to completion. You want to provide yourself with an honestly estimated cost before you actually begin working, and failing to have the right tools at your disposal can impair productivity and cost you more money.
While there may not be a single tool that can capably fulfill your every remodeling need, the Festool Kapex KS 120 Sliding Compound Miter Saw can come pretty close. This is one of the most advanced sliding compound miter saws on the market today. With its diverse array of features, intuitive design choices, and all-around efficiency, this is a tool that is bound to be the number one choice of professional remodelers, tradespeople, and homeowners performing their own renovations.
---
Table of Contents:
A Wealth of Precision Features
The Best Choice for Any Woodworker
---
An Intuitive Design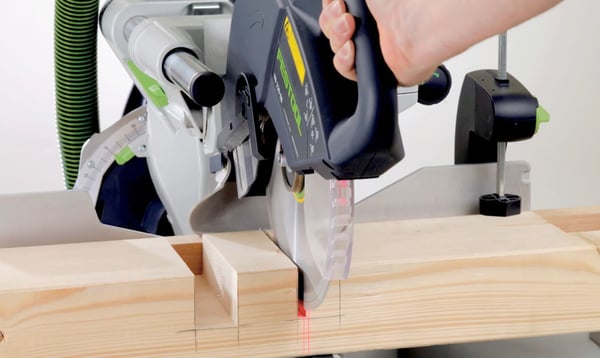 Since remodeling jobs rarely exist in a single, isolated space, your tools should be able to go where you do with minimal complications. If you need to relocate your workstation to a bathroom to install a sink, for example, then you're probably going to want the tools you were using in the kitchen on the other side of the house to come with you.
When it comes to heavier tools like miter saws, transportation can be a hassle. Thankfully, that's not the case with Festool's Kapex KS 120. With a compact and relatively lightweight design, fast-and-easy blade changes, and built-in dust extraction, the KS 120 is a tool that not only goes where you need it to but can make the work you do cleaner, easier, and faster.
Compact, Lightweight, and Adaptable
With a lightweight construction and a carrying position ergonomically designed for maneuverability, the Kapex 120 is guaranteed to go wherever you need it to. When you need to move it from one site to another, the Kapex's head can be locked down into place making the tool as a whole even more compact, and easier to relocate.
There are even two easily accessible handles that keep the overall weight of the saw close to your body. This means that, when you inevitably have to carry the tool, it better distributes the weight and minimizes the strain on your back.
To make moving your Miter Saw even easier, Festool's available Festool KS120 Kapex portable stand set with rolling stand will make that effortless. This sturdy yet mobile stand for the Festool Kapex sliding compound miter saw is designed so you can set it up and break it down quickly and easily for the ultimate in efficiency and mobility.
The kit includes 2 folding extensions that connect tool-free to the Kapex. There's also an integrated measurement scale, flip stop and adjustable leg, and it can expand from 58-1/4 inches (1480 mm) to 94-1/2 inches (2400 mm).
In addition, the Kapex 120's rail-forward designs mean that you can place the saw right up against the wall, which maximizes your workspace and makes your cutting tasks that much simpler. Even when you're not actively using the Kapex 120, it remains a compact tool thanks to a minimal footprint that allows for easy storage.
This is a tool designed to go with you wherever your work takes you. It's a lightweight, compact, and adaptable saw that can flexibly adapt to your needs.
Seamless Blade Swapping
The Kapex 120 comes equipped with Festool's patented and intuitive FastFix blade changing system. The process involves simply turning the FastFix knob to lock the arbor, which prevents you from accidentally pulling the trigger. From there all you have to do is pull the blade out and replace it with a new one.
Not only does the FastFix system prioritize your safety, but it's so simple that you can do it with just one hand. The cupped steel arbor nut also helps prevent accidental over-torquing that could cause serious damage to both the saw and its blade.
Superior Dust Extraction
Everyone knows that the worksite can get very dusty very quickly. With so many tools operating at once across a variety of materials, debris will inevitably be sprayed into the air, across the floor, and in some cases, right in the way of the work you're trying to do.
The dust that results from a worksite won't only have an adverse effect on the tools themselves if they're not maintained and cleaned properly—as the microfibers and debris can get into the tool's internal systems and cause a variety of problems—but exposure to this much dust can also lead to health problems.
Obviously, then, having some kind of dust extraction system is vital for any worksite.
The Kapex 120 comes pre-equipped with a flexible and removable rubber dust hood near the rear of the blade that effectively redirects any waste material or debris into a directional dust port. When paired with any of Festool's HEPA CT Dust Extractors it's 91% efficiency will make your job easier and safer. Upgrading your Dust Extractor to the larger 36mm Hose Size will make that dust extraction noticeably more efficient.
Power Where it Counts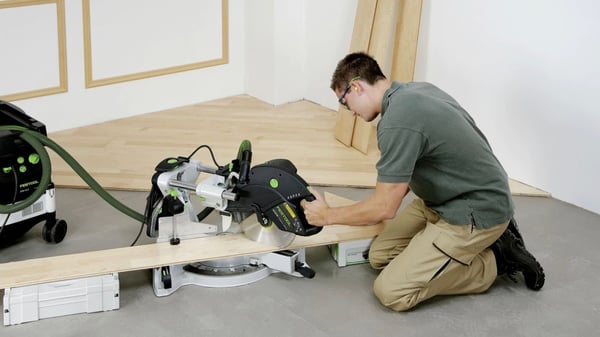 Thanks to the Kapex 120's intuitive design, remodelers and DIY homeowners alike can make cuts that will rival the finest trim work out there. While the ergonomic design and intuitive features go a long way towards making this tool a favorite for everyone and anyone, it's ultimately the machine's power and speed that makes it such a reliably capable tool.
With 1600 Watts (13 Amps) of available power consumption, the KS 120's powerful motor takes advantage of a direct drive that allows for a more efficient transfer of energy to the blade.
Variable Speed Capabilities
This powerful, versatile engine also allows the Kapex 120 to thrive in a variety of speeds. With capabilities of anywhere from 1,400 - 3,400rpm, this is a miter saw that can rise to meet any occasion the job may have for it.
Festool's built-in MMC-electronics help hold the blade at a constant speed that you set, resulting in a cleaner and more precise cut than anything a conventional miter saw could accomplish. The saw's motor also has a useful magnetic brake that serves to reduce the time the blade needs to stop spinning.
Effective in Multiple Environments
Where most miter saws are designed to cut wood and not much else, the Kapex 120's variable speed capabilities allow it to match the requirements needed to cut through a variety of materials. This is made possible due to the Kapex 120's "Multi-Material Control" (MMC) power electronics, which allows users to make use of adjustable speeds.
It's these adjustable speeds, and the correct blade, that allow the Kapex to successfully cut through more than just wood-based materials. The MMC electronics also allow users to easily monitor the saw's temperature when working on all types of material. This helps prevent overheating and ensures your tool has as long a lifespan as possible.
A Wealth of Precision Features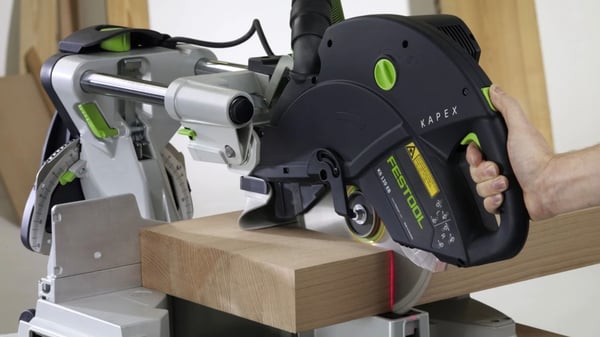 Festool's Kapex KS 120 Sliding Compound Miter Saw strikes that perfect balance between specifications and dynamic features. It's able to thrive in multiple environments without sacrificing a shred of its specialized efficiency and wealth of capabilities.
No matter what environment you use the Kapex 120 in, the many features it comes equipped with will help you get the job done as smoothly as possible. Here are just a few of the many features you can expect to find when operating this miter saw.
Fine Bevel Adjustments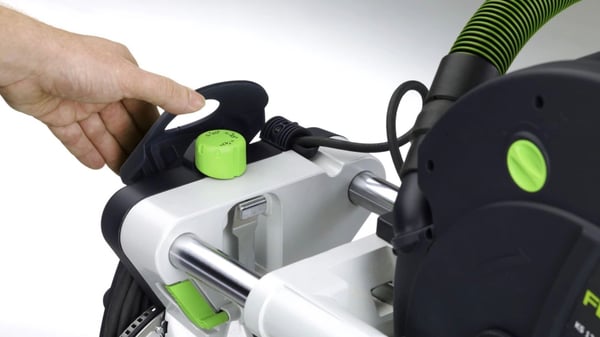 With the Kapex 120's upfront controls, counter-spring mechanism, and large, easy-to-read angle gauges, making precise bevel adjustments and placements is easier than ever. The bevel lock sits at the top rear of the rails, making it easy to reach. You can even set the stop-knob so that the saw swings 45-degrees one way and stops vertically at 0 in the center. The stop-knob has a second position that allows the saw to swing 45-degrees in either direction, and a third that will allow you to bevel the saw 47-degrees left or right.
No other saw on the market has a bevel gauge as large as the Kapex 120. Courtesy of the bevel gauge's radius—about 7-inches—you can easily dial a bevel angle within a ½ degree on the Kapex. The Kapex's right-hand rail is also equipped with an intuitive gear-driven twist knob that allows for maximum bevel-angle control without forcing the user to support the motor's weight on their hand or shoulder.
This makes bevel-angle adjustments a seamless experience, and for the first time, makes micro-fine adjustments possible on a miter saw.
Easily Transfer Angles with the MiterFast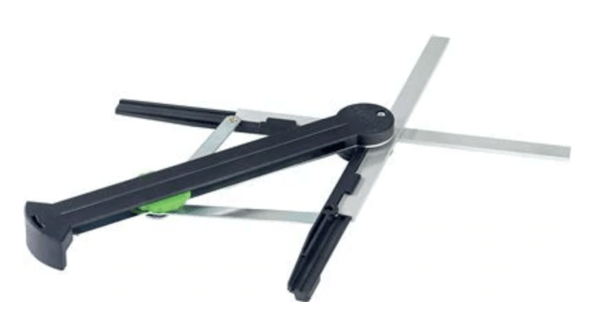 The Kapex's MiterFast angle transfer device—included in the standard package for the Kapex KS 120—makes transferring exact angles to the miter saw a quick and easy process and enables the user to precisely match cuts for both inside and outside corners. The center-of-cut line is also coated with a unique reflective paint that allows for easy reference when paired with the Kapex 120's dual-laser lines.
In order to prioritize simplicity, the MiterFast is designed to operate off of basic geometry. This effectively eliminates the need for the user to record or remember detailed angles or fractions. The device is also equipped with a locking mechanism that guarantees your workpiece never slips during the cutting process, further ensuring that your cuts are nothing less than precise.
Dual-Line Lasers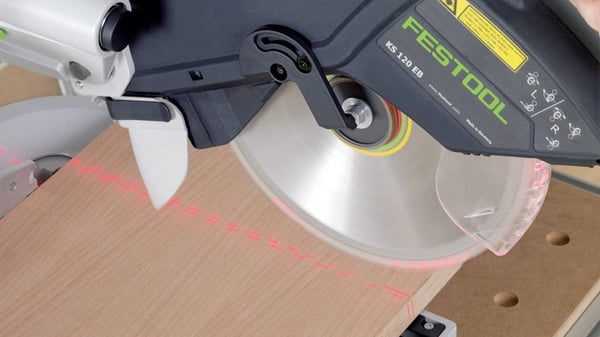 In addition to the MiterFast angle adjustments, the Kapex 120 also comes with fully adjustable dual-line lasers that can take your cutting precision even further. When you position the two laser lines along the material you're working with, all of the material between the two laser lines will be removed by the saw.
This simple system makes precisely aligning cuts from the left or the right fast, easy, and stress-free since you'll always have a clear illustration of what material will be cut away.
Safety-First Design
Festool's products always exemplify safe and efficient designs, and the Kapex 120 is no exception. All of the blades are uniquely designed so they produce as little noise and vibration as possible, which improves the user's comfort and overall experience with the tool. The blades also create a thin kerf which helps reduce the load on the motor, further improving cut quality.
The two-step safety trigger, FastFix Blade changing system and quick-acting brake included in the saw's design. All of these features work together to encourage the safest and most efficient working experience possible.
The Best Choice for Any Woodworker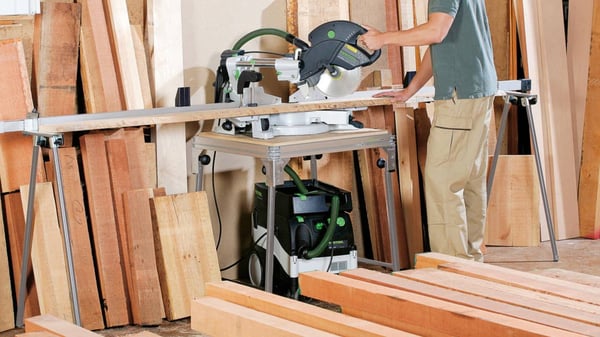 When it comes to versatile miter saws, you won't find many options more qualified for whatever job you're working on than the Festool Kapex 120. In the hands of any woodworker, remodeler, DIYer, or professional carpenter, this expertly crafted machine can seamlessly make flawless and precise cuts over and over again without fail.
Specifically engineered to be both lightweight and compact, the Kapex 120 is right at home in the workshop or on the job site, and the wealth of features it comes with means that it can rise to any occasion you could ever present it with.