The Festool dust extraction is the best in the business for a reason — and it doesn't stop with the CTs themselves. You can conquer any mess in the shop with the right affixements and complementary pieces to suit the task at hand. The Festool dust extractor accessories listed below are your ticket to a perfectly engineered cleanliness system, whether you work in the garage, in the workshop, or on location at a customer's property.

It doesn't matter whether you're using a CT 26, 36, or 48 — the CT Cyclone combines with them all (with or without Autoclean). You'll increase the lifespan of your filter bags and filters with a CT Cyclone installed, since it collects and removes larger dust and debris before it hogs space in the filter bag or clogs the filter. The whole unit fits easily within your Festool SYSTAINER modular storage system for secure storage or tasks on-the-go.
These sets cater to the specific needs of installers, workshops, industrial locations, and more. Pick the set that's just right for your workspace and the tasks you handle most.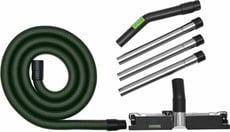 Your CLEANTEC mobile dust extractor can eliminate the runaround and start from a distance when fitted with an easy-to-setup Bluetooth module. Fire it up with the remote control and save yourself a trip over to the CT unit, even when it's in AUTO mode. It's compatible with the CT 26, CT 36, CT 36 AC, and CT 48, and can also communicate with the new Bluetooth battery packs, so that even a cordless tool can start up the dust extractor automatically as soon as the tool is switched on.
Need a CT to use with your Festool dust extractor accessories? No problem! Browse our extensive collection of Festool CTs at the US Tool and Fastener online shop and find the model with the size and features that are right for you.