Traveling to job sites is par for the course for professional remodelers. Unfortunately, that means we're all too familiar with the constant packing and unpacking of supplies, the seemingly endless trips to and from the truck while lugging heavy boxes, and worst of all, finally getting to a job site just to realize that you still forgot something.
Leave those frustrations behind with the Festool Mobile Workshop.

Effortless Transportation
The Festool Mobile Workshop is lightweight and can seamlessly cruise from your workshop to your vehicle, and ultimately, to your worksite. Due to its compact dimensions, the Mobile Workshop takes up minimal space in a tightly packed van or truck, which allows you to more efficiently store, move, and use the tools you need to get your job done.
The large, fully rubberized and shock-resistant wheels can navigate over uneven or unpaved surfaces, and can even handle moving up or down flights of stairs. It also features a leveling foot so you can stabilize it on uneven surfaces.
The Mobile Workshop may be low weight and compact in size, but it's made Festool tough so you know it can be trusted for durability.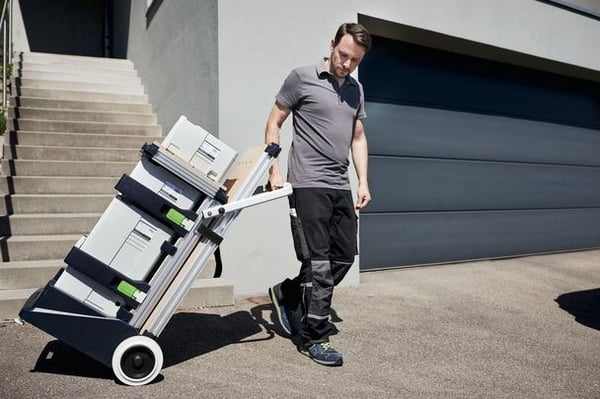 Fully Customizable
This all-in-one solution allows craftsmen to customize their storage and workspace to their specific needs. Not only is the flexible and sturdy work table extendable, but the pull-out drawers can be adjusted to any height.
The Festool Mobile Workshop Extension Table boasts a length of 41-⅛" and quickly folds for easy storage. Adding multiple Festool Mobile Workshop Pull-Out Drawers will allow for convenient and safe storage and a straightforward organization of your tools, accessories, and hardware.
The Mobile Workshop is also compatible with all accessories for the MFT Multifunction Table including:
Seamless Integration
The Festool Mobile Workshop is also compatible with your existing systainers and tools. It can even hold your Festool CT SYS Mobile Dust Extractor for maximum full-workshop mobility.
If you're looking for a better way to transport your systainers, the Mobile Workshop is the perfect solution. It's compatible with these systainers and more:
With the Festool Mobile Workshop, the exact tools you need will always be within arm's reach.