The Shaper Origin handheld CNC router makes expert-quality precision woodworking easier and more accessible than ever before. It's one of those intuitive and unique tools that works as well for professionals as it does for your everyday DIYer. No matter what project you're approaching, and regardless of whether you've used a CNC woodworking machine before, the Shaper Origin is designed to work for you.
Get the Highest Quality Woodwork in Three Easy Steps
Unlike some handheld routers that can be unwieldy at best and dangerous at worst, the Shaper Origin is as safe and simple as one, two, three. Are you looking to make a skateboard for one of your kids in your free time? The Shaper Origin can do that. Do you need to cut a complicated spiral design out of a piece of plywood? The Shaper Origin has you covered.
This CNC woodworking machine can produce stunning and precise pieces in three simple steps: Scan, Design, and Cut.
Let's work through each step together.
Scanning the Surface
The first step in using Shaper's CNC woodworking machine is to adorn the surface you'll be cutting with some of the ShaperTape that comes included with the tool. These tapes are what allow the Shaper Origin to scan the surface and then guide you through each cut you make. It's a kind of augmented reality that's not often seen in a woodworking tool like this, and it works wonders for streamlining the entire process.
Designing the Project
Once you've scanned the surface, it's time to design. If you're going to be making simpler cuts, then you can design right on the Shaper Origin's multi-touch and full-color LCD screen. It's as easy as tracing your finger on the screen to outline what you want your cuts to look like and then making the cuts. There are also pre-loaded designs like circles, rectangles & squares, text and even box joints that can be adjusted to scale.
But if you want to make more complicated cuts, or already have a design ready, then you can upload standard vector files (.SVG) right to the tool and use those. Not only is there a USB port you can use to transfer your designs, but the Shaper Origin is also Wi-Fi compatible, enabling you to transfer files (and software updates) over ShaperHub from other users designs or your own
Making the Cut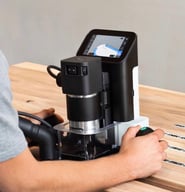 One of the trickiest parts of routing is always going to be the cutting of the wood itself. There are no do-overs, especially when you're working with a motorized tool; once the blade hits the wood, you're off to the races, whether you're ready or not. But with the Shaper Origin, all you have to do is trace the designs you uploaded to the tool.
Are you creating complex joinery? Tight-fitting box joints? You can do both easily. It's as simple as tracing a line, literally! And if you start to stray outside of the lines the Origin is guiding you with, the CNC motor will auto adjust to keep on your cut line or will first give you a warning and then pull up the bit if you keep going. This way, any mistakes will be minimal and can be easily fixed.
A Safe and Simple CNC Woodworking Machine
The Shaper Origin is a CNC woodworking machine designed for anyone and everyone. If you're a woodworking veteran, then this intuitive tool can help you work more effectively and efficiently than ever before. And if you're a newcomer, then this is one of the best CNC wood router tools you could possibly get your hands on, as its computer-guided accuracy and ease-of-use will help you make the best and most precise cuts every time.
US Tool and Fastener are one of the first suppliers to carry this incredible product and one of the first in the New England area. If you want to learn more about this tool and inquire about a live demo, then get in touch with us today!