Skil circular saws and chainsaws have a well-deserved reputation as elite timber framing saws. The advanced Skil worm drive technology and magnesium construction that define the Skilsaw Sawsquatch line are just the beginning. If you're a timber framer or plan to work on a timber framing project, get yourself equipped with one or more of these three Skilsaw Sawsquatch options for relentless efficiency and precision.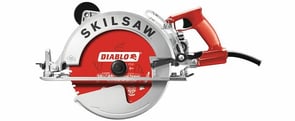 Sawsquatch is an apt name for the all-around best circular saw for framing projects on the market. The efficient cooling and increased power of the 15 Amp dual field motor on this flagship Skil circular saw put it head and shoulders above the competition. You'll be able to cut 4x cleanly and efficiently in a single pass with the 10-¼ magnesium blade, and the worm drive will provide a lifetime of unstoppable power.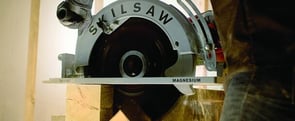 Bigger is better. The Super Sawsquatch cuts 6x in a single cut with a monster of a 16-5/16 blade. The durable brass worm drive gearing ensures this relentless timber framing saw will stop at nothing and never leave you stranded. It's the biggest, baddest framing circular saw on the planet and the best circular saw for framing projects that demand deep, heavy-duty cuts day in and day out.

Just when you thought it wasn't possible to cut through thicker material than the Super Sawsquatch's incredible 6x capacity, Skil throws this beast into the mix. This 16-inch carpentry chainsaw makes the most difficult jobs possible with the same advanced worm drive technology that made the Skil brand the gold standard for timber framing saws. You'll have maximum control and accuracy with the self-lubricating, full-house chain and lightweight magnesium design that makes flawless cuts to 14-¼" depth with extraordinary efficiency.
Shop Skilsaw Sawsquatch at US Tool & Fastener
No job is too big, no cut too tough, for our power-packed lineup of Skil circular saws, chainsaws, blades, and essential Skil accessories. Get yourself started with a Skilsaw Sawsquatch framing circular saw, then expand your collection to handle every aspect of the framing project as needed. We stock blades for all applications, Skil table saws, reciprocating saws, miter saws, and more.
With US Tool, you know you'll always be able to find the right tool for the job. Don't hesitate to call up our knowledgeable team for guidance or answers to any burning questions you have about our tools or your next timber framing project.