JET woodworking tools are in the house. We're excited to announce our holiday promotions for our entire JET catalog - complete with exciting rebate opportunities for maximum savings!
Here are three tools to keep an eye on as we roll out our JET offerings: a powerful air filtration system, an innovative dust collector, and a heavy-duty bandsaw.
Don't forget to take advantage of JET and Powermatic's latest rebates during the 2022 holiday season!
JET Air Filtration System 1000 CFM
(SKU: 708620B)
If you're doing work out of your garage, basement, or a small shop, the JET Air Filtration System 1000 CFM is a perfect size, with the power to keep the air in your workspace crystal clear through the toughest projects. It's easy to hang from the ceiling and operate via remote control. This is is the first in the industry to offer remote operation. The convenient 2, 4, and 8-hour timer settings with three graduated speeds will keep your system optimized and shut down when you don't need it. No micromanaging, no more fine dust clouds or other airborne particles, no problem!

Some other highlight features include:
Disposable electrostatic outer filter (outperforms conventional filters)

Removable, easy-to-clean inner pocket filter

Fully-enclosed ball bearing motor

Overload Protection for long, dependable service

Rubber no-mark feet for workbench placement

Double filtration system with broad air diffuser

Nearly 20 cycles per hour (19.58) in a 20' x 20' x 8' space
JET DC-1100VX-CK Dust Collector
(SKU: 708659K)
This industrial-strength dust collection system keeps the messiest projects spick and span for years. The exclusive Vortex Cone™ of the JET DC-1100VX-CK Dust Collector is a work of high-performance innovation that will compare favorably with nearly any competing specifications. The high air velocity (CFM) design of the Vortex Cone ensures reliable chip separation and outstanding space efficiency in the collector bag. At the same time, it allows for a surprisingly quiet and economical single-stage design. The fully enclosed and permanently lubricated fan-cooled motors will provide no-nonsense service day in and day out in continuous duty operation.
Some other highlight features include:
1.5HP

Efficient 2-Micron Canister Kit

Four casters for in-shop maneuverability

Elastic "snap ring" on collection bags for rapid installation/removal

Vortex design eliminates filter clogs for sustained performance

5.3 cubic feet of bag capacity

12,571 FPM velocity with 4" hose connection diameter (also has 6")

70 - 80 decibel sound rating
JET JWBS-14SFX 14" Bandsaw
(SKU: 714400K)
The JET 14" SFX Steel Frame Bandsaw is the newest addition to the JET bandsaw lineup, and this heavy-duty model is more revolutionary than evolution. It's not easy to find a bandsaw with this level of functionality and durability at such an affordable price point. Between a cast iron table, stamped steel doors, welded steel pin hinges, and heavy-duty tubular steel welded construction, it prioritizes stability across years of intense use. Don't worry about large workpieces, as the rock-solid base and 360 square inches of work surface will provide all the support you need for steady, precise cuts on oversized woodworking projects.
Use this JET bandsaw for flawless cuts on everything from large pieces of wood to veneers to book-matched panels. In short, you're getting a top-end bandsaw's premium performance at a price that delivers maximum value.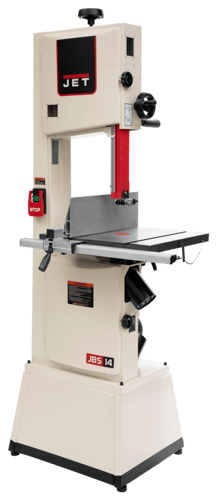 Some other highlight features include:
Dual 4-inch dust ports

Over 13 inches of resaw capacity

Easily adjustable upper and lower ball bearing blade guide system

Machined aluminum fence system with clearly marked measurements

3,000 SFPM blade speed
Shop the Latest JET Tool Promotions
These featured JET tools are just a few of our holiday 2022 promotions. Be on the lookout for great deals and rebates on JET's catalog for the rest of November and December 2022!
Questions about ordering? Contact us for a demo, and we'll be happy to book you for a live demonstration at our US Tool and Fastener store. You can check out our top tools, including Kreg pocket hole jigs, JET dust collectors, and the latest Festool releases. Try out our Bora centipede workstands or the TS 55 FEQ Track Saw in person at our Worcester, MA, location.
You can also follow us on Instagram for the latest shop tools and tips on finding the best woodworking accessories!