We're excited to continue offering the next generation of high-performance Powermatic tools in the US Tool and Fastener store. Powermatic has long been known for mechanical elegance, innovation, and durability.
The three Powermatic tools listed here are perfect examples of how the brand earned that reputation. Check out these premium Powermatic products and explore your woodworking creativity with an intuitive woodshop experience.
Don't forget to shop JET and Powermatic's latest rebates during the 2022 holiday season!
Powermatic PM2820EVS 1HP 20" Variable Speed Drill Press

(SKU: 1792820)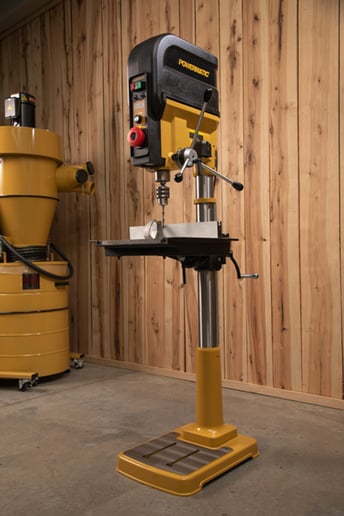 Gear up for the Ultimate Performance with the Powermatic PM2820EVS Drill Press. The gear-driven power transfers torque consistently and efficiently for any project in a wide range of materials. A removable cast table with a 45-degree rotation can accommodate large and small projects. The high-visibility laser pinpoints the drilling location for total accuracy.

The included fence and stop help make repeat and production drilling efficient. Handles can be moved to the right or left for ease of use. An oversized cast base gives this drill press exceptional stability. Finally, the integrated LED light reduces shadows for project visibility.
Some other highlight features include:
Laser crosshairs provide precise tool point indication.

Gear-driven power transfers torque consistently and efficiently for a wide range of materials.

Handles can be reversed for left or right-sided operation.

Highly visible digital readout gives users control.

Includes Powermatic's patented integrated depth stop for efficient drilling

Includes the most versatile table in the drill press market. Allows inserting to be removed for better access to oversized pieces.

Standing on an oversized cast base for outstanding stability for the 20-inch swing.

The electronic variable speed means torque is not lost using higher or low-speed settings. The low-speed setting ranges from 150 – 870 RPM, and the high-speed setting ranges from 600 – 3600 RPM.

The large cast table adjusts to a range of positions and tilts to a full ninety-degree position.
Powermatic 60HH 8" Jointer, 2HP 1PH 230V, Helical Head

(SKU: 1610086K)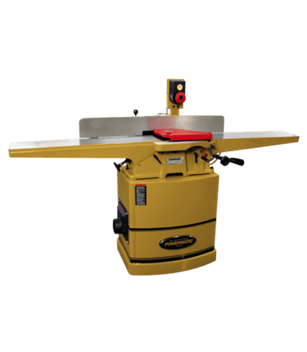 Like its drill press counterpart, the Powermatic 60HH 8" Jointer meets the demand for accuracy while combining unique, user-friendly functions. The infeed table lever can rapidly position table height, and then the handle is rotated for fine-cut depth adjustment. Fence tilting streamlines with a new worm gear system, smoothly operated by a simple handwheel.

The tables provide 73" long extended support. A non-mar insert in the fence protects the table from scratches during adjustments. The Jointer is available with a three high-speed steel knife cutterhead or a helical cutterhead with 54 four-sided knife inserts. The operating switch is high-mounted for easy reach, and the push blocks have a magnetic base - store them on any metallic surface for instant access.
Some other highlight features include:
Adjustment lever offers quick infeed table positioning and fine-tuning of cut depth

Extra long tables mount on dovetailed ways for extended workpiece support

Handwheel-operated worm gear system for smooth fence tilting

High mount switch for operator convenience

Magnetic push blocks can be stored on the machine within constant reach

Non-mar fence insert protects the table surface

The helical cutterhead with 54 four-sided carbide inserts provides smoother, quieter cutting and a superior finish.
Powermatic PM701 Mortiser, 3/4HP 1PH 115/230V

(SKU: 1791310)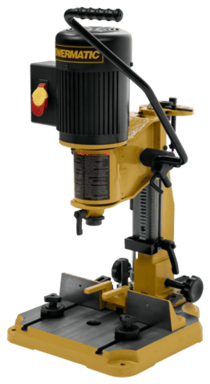 The Powermatic 701 Benchtop Mortiser features an in-line depth stop, allowing the user to stop at preset depths without racking the mortiser bit to the base. Its heavy-duty reversible handle is so versatile that it can be changed from one side to the other quickly and easily and requires no tools. The stock hold-down features a specially designed double lock system. One lock from the side and the other from the top to simplify removing the chisel from the workpiece. This hold-down is also reversible, allowing stock from 0 to 5" thick to be captured underneath it.

The new 701 Benchtop Mortiser also has a quick-action cam lock that will quickly lock the fence into position with one 90° movement. This lock also features lock nuts, so you will not have to continually adjust them during assembly. Set-up has never been easier or more precise!

Better yet, the Mortiser features an integrated bit and chisel spacer system. These two spacers accurately and quickly account for the space needed between the bit and chisel during setup. Large work surfaces in the table and fence allow for more stability and accurate cuts. The new mortiser also includes a large hinged chuck door with a magnetic catch. This unique element lets you easily access the drill chuck with the standard 4" chuck key to lock the bit in place. Plus, its rack and pinion allow for simple and quick fence adjustments.
Some other highlight features include:
6" quill travel with just one revolution of the handle
3 1/8" column diameter
Digital RPM readout of spindle speed
Adjustable fence system
5/8" chuck size (keyed chuck included)
Stable, oversized cast iron base
The worktable can rotate to a full 90-degree position
Upgrade Your Woodworking Experience
These three awesome Powermatic tools are just the beginning. Be on the lookout for great deals and rebates on Powermatic's lineup for the rest of November and December 2022!
Questions about ordering? Contact us for a demo, and we'll be happy to book you for a live demonstration at our US Tool and Fastener store. You can check out our top tools, including Kreg pocket hole jigs, JET dust collectors, and the latest Festool releases. Try out our Bora centipede workstands or the TS 55 FEQ Track Saw in person at our Worcester, MA, location.
You can also follow us on Instagram for the latest shop tools and tips on finding the best woodworking accessories!