The US Tool and Fastener store is introducing two exciting new TSO Parallel Guide (TPG) sets, the TPG-30 and TPG-50, for Festool, Makita, or Triton guide rails (sold separately). Both sets include a pair of T-tracks that will mount snugly and easily to your guide rails, along with a unique group of accessories.
Whereas competing products often suffer from limited stability, accuracy, or durability, the TPG system provides the superior quality you can always expect from a TSO product. These TPG systems can be counted on to give you:
Repeatable precision cuts
A simple, one-piece T-track design — no slipping and sliding lengths of track

Easy and secure bolt-on attachment

FlipStop v2.0 technology that moves only when you want it to
Laser-engraved metric and imperial dimensions
Calibration Memory™, eliminating re-calibration when changing rods
Rip capacity ranging from ¼" (6mm) all the way to 4' x 8' sheets
Square and parallel in one cut with one track
Altogether, it's easy to see why the TSO Parallel Guide system has built its reputation as the most capable and highest value guide system on the market. Let's take a closer look at the two set versions available in our online store: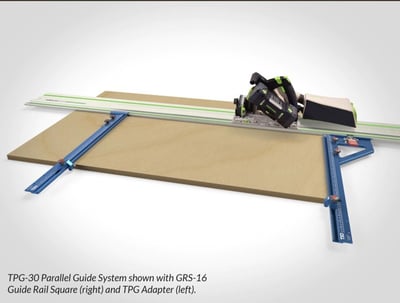 This robust set is centered around twin 30" dual-dimensioned T-tracks that attach to Festool, Makita, or Triton guide rails via TSO Guide Rail Adapters or TSO Guide Rail Squares. . Because of the FlipStop v2.0, you can be sure that the tracks will remain perfectly calibrated even when swapping between standard and narrow stock rods. Calibrate once and the TPG adapter remembers the precise position.
In addition to the TPGT-tracks, you'll get accessories including:
2 TPG FlipStop v2.0
2 Calibration Rods, for narrow cutting
4 Comfort Grip Star Knobs
1 Hex Driver (3mm) for all adjustments
The TPG-30 Parallel Guide System can be attached to your Festool, Makita, or Triton Guide Rails using either the Quick Guide Rail Adapter (Festool Guide Rails only), the standard TPG Guide Rail Adapter, the GRS-16 Guide Rail Square, or the GRS-16 PE Guide Rail Square. For square and parallel cuts you will need at least one GRS-16 Guide Rail Square or GRS-16 PE Guide Rail Square.
Additional accessories can still be purchased separately if, for example, you find you want to add the 50" T-tracks for more capacity down the line. Just be sure to add 2x TSO t-track connectors to accomplish that.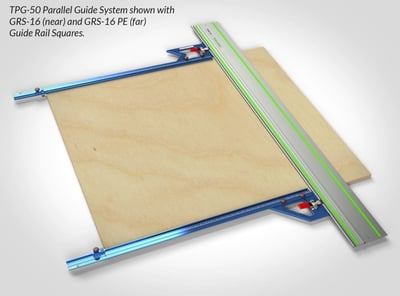 The larger and more complete TPG-50 TSO Parallel Guide System set includes all of the same precise and durable 30" T-tracks and other accessories as the TPG-30 set, with one notable exception:
Two additional 50" dual-dimensioned T-tracks
That's right, you'll get everything in the TPG-30 set plus a pair of 50" TPG T-track s for when the going gets tough and you need to swap over to a larger T-track size. Again, it's still possible to purchase other accessories separately. For a truly complete TSO parallel guide system collection, you might consider adding a pair of 20" T-tracks to the 30" and 50" ones that are already included in the TPG-50 set.
And don't forget that the TPG Quick Adapter was intentionally designed to be Festool specific. It's guaranteed to be flawlessly compatible with all Festool guide rails. You can still use the original TSO TPG Adapter for Festool, Makita, and Triton Guide Rail Systems.
Shop at US Tool and Fastener — We Have TSO Products IN STOCK
Many of our competitors have struggled to keep TPG systems on their shelves (or in their warehouses), but we've got them here and ready to ship.
As verified buyer Stephen B. commented after his own purchase of the TPG-30 TSO Parallel Guides, his experience included an "easy purchase with the item being in-stock at US Tool & Fastener when it was not available elsewhere. And a quick ship to boot…"
After receiving his TPG-50 set, customer Taras K. reported that "I tried to buy the TPG-50 directly from TSO and they were never in stock. I called to see if you had any in stock, the rep told me you had 15. I placed the order from the website on Monday and received it on Friday before the holiday weekend. It's remarkable to receive it in such a short period of time considering we are on opposite sides of the country and it was free shipping. I will use them again for my future needs."
Come check out our full collection of TSO products and get access to the set that you need—fast.