Festool's reputation is unparalleled in the world of craftsman tools. We've previously written about the phenomenal advantages of tools like their TS 55 REQ Track Saw and Domino DF 500 Joiner. How could you possibly upgrade flawless Festool tools like these?
Well, it just so happens that TSO manufactures a fantastic line of guide rail squares and accessories, and TSO products can take any Festool Fanatic's toolbox to the next level. Here are a couple of standouts for your consideration:
1. The TSO GRS-16 Guide Rail Square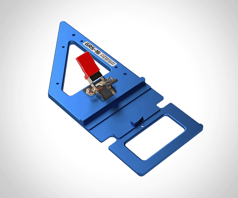 There's a reason this TSO accessory gets flawless 5-star reviews in our store. Customers are calling it "incredibly easy," "a huge time saver," and "a must-have for your track saw." This guide rail square is so accurate that "virtually no calibration necessary or even possible." Say goodbye to wobbly T-slots and an array of loose parts for the calibration. The TSO GRS-16 Guide Rail Square is a completely self-contained, self-aligning system that upgrades your Festool, Triton, or Makita track saws with advantages like:
You could use the basic model or the TSO GRS-16 PE for a parallel edge square that can reference your workpiece's front and back edges of your workpiece. Both models come together in our TSO Guide Rail Square Combination Set.
2. The TSO Parallel Guide System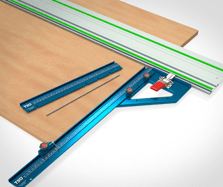 The GRS-16 or GRS-16 PE has set the highest bar for guide rail squares for years. TSO has harnessed this success by releasing a Parallel Guide System that uses either model (at least one is required) for a standard-setting, all-in-one squaring and cutting solution.
You only get parallel cuts with most Parallel Guide Systems for track saws. The TSO TPG System allows you to easily and accurately cut parallel and squares in one task, saving time and material waste! The TSO TPG 20 & 30 parallel guide system gives you two t-tracks with 20 and 30-inch maximum cut-width capacities.
TSO Guides help you achieve the perfect cut every time.
With these tracks, you can:
Extend the reach of your guide square to the full edge of your workpiece

Combine squaring and ripping into one task

Have the option to use a

single

t-track

Disengage quickly from the guide rail
TSO makes both a right-hand and left-hand kit to accommodate the front or back edge of the workpiece. You can also purchase them together in the combined set.
Finally, TSO offers a standalone pair of extended 50-inch guide rails (without the flip-stop, calibration rob, or star grip knobs) for the largest workpieces.
3. The TSO BigFoot Support Bracket (for Festool's Domino)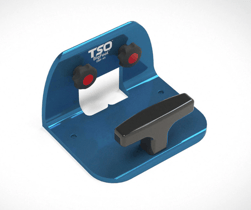 Vertical mortising is tricky and unsafe without a broad, stable support bracket to hold your joiner in place. The original Festool bracket accessory for the Domino works just fine, but this upgrade from TSO has:
Significantly more base surface area for improved stability

A substantial support handle (absent from the Festool bracket)

Comfort grip knobs for quick affixing to your Domino

A large, open viewport with a cursor to align the Domino
It works equally well with either the Domino DF 500 or the Domino DF 700XL to give you the confidence, safety, and speed you want while crafting vertical mortise-and-tenon joints.
Use TSO Products to Upgrade Your Workbench
TSO guarantees the accuracy of its products to quickly and easily boost the performance of your top-of-the-line tools.
Two honorable mentions of TSO products also worth checking out are the TSO MTR-18 Precision System Triangle and the TSO MTR-18 Master Accessory Kit. When you're working on a perforated worktop with Festool DoubleGroove Large Dogs, nothing beats a triangle guaranteed to square within .001" over it's 18" length. The accessory kit only further expands your options with ways to dial in infinite and repeatable angles or clamp the triangle while it's upright.
Tools like these are why discerning artisans and Festool fanatics love to use TSO products with their Festool Tools.
Power Tools for All Levels of Woodworking Experience
Questions about ordering? Contact us for a demo, and we'll be happy to book you for a live demonstration at our US Tool and Fastener store. You can check out our top tools, including Kreg AccuCut, Shaper Origin, GRK screws and fasteners, and the latest Festool releases. Try out our Rotex sanders or the TS 55 FEQ Track Saw in person at our Worcester, MA, location.
Follow us on Instagram for the latest shop tools and tips on finding the best woodworking accessories!