The Festool Domino XL and DF 500 are robust joinery tools that pack professional, stationary-grade mortise and tenon functionality into a versatile, mobile hand tool. If you've been considering or comparing the two sizes of this Festool, you might have a few questions. Well, we've got answers.
1. When should I consider a Festool Domino XL?
The larger and more powerful Festool Domino XL is the perfect choice if you plan to use your joiner not only on ¾" sheet goods but also on some larger projects (full-size doors, gates, bed frames, thick slabs, and the like).
Generally speaking, if you mostly work with materials that are 1" or thicker, you'll get better mileage and results from the stronger Festool Domino XL technology with its longer tenons and expanded range. Fine cabinetry and other projects that work with thinner materials will benefit more from the maneuverability and ease of use of a lighter machine in the DF 500.
2. What are the best Festool Domino tips and tricks?
The best way to master the Festool Domino XL and DF 500 systems is to get them in your hands and experiment until you have a feel for the power of the plunge, which can be surprising for a handheld tool. But if you're itching to dive in, here are a few pointers to get you started on the right foot:
Try gripping from the back, near the power cord, and use a slow, even pace until it acclimates to the high-end performance of the Festool Domino XL and DF 500. This method will allow you to plunge into your material with less chance of tipping the cutter out of the plane. It's a good idea to sand a handful of extra dominoes for test fits lightly. These looser dominoes will save you time and effort pulling tight-fit pieces apart repeatedly.

If you've got a line-up of dominoes to fit, plunge one narrow, tightly fit mortise in the line as an anchor/guide, and use the slightly wider setting for the rest. This step helps at assembly time and accounts for a margin of error in positioning without significantly affecting the strength of the tenon joints.

Always maintain steady pressure with a hand on the flip-down fence to avoid tipping the cutter out of the plane again.

Be sure to mark the face of your material, so you are sure the height on the thickness of your material is consistent. You don't always have to be centered in the material but must be consistent for perfect flush alignment.
Looking for more? Here are some videos we assembled with helpful tips for specific joinery project ideas with the Domino.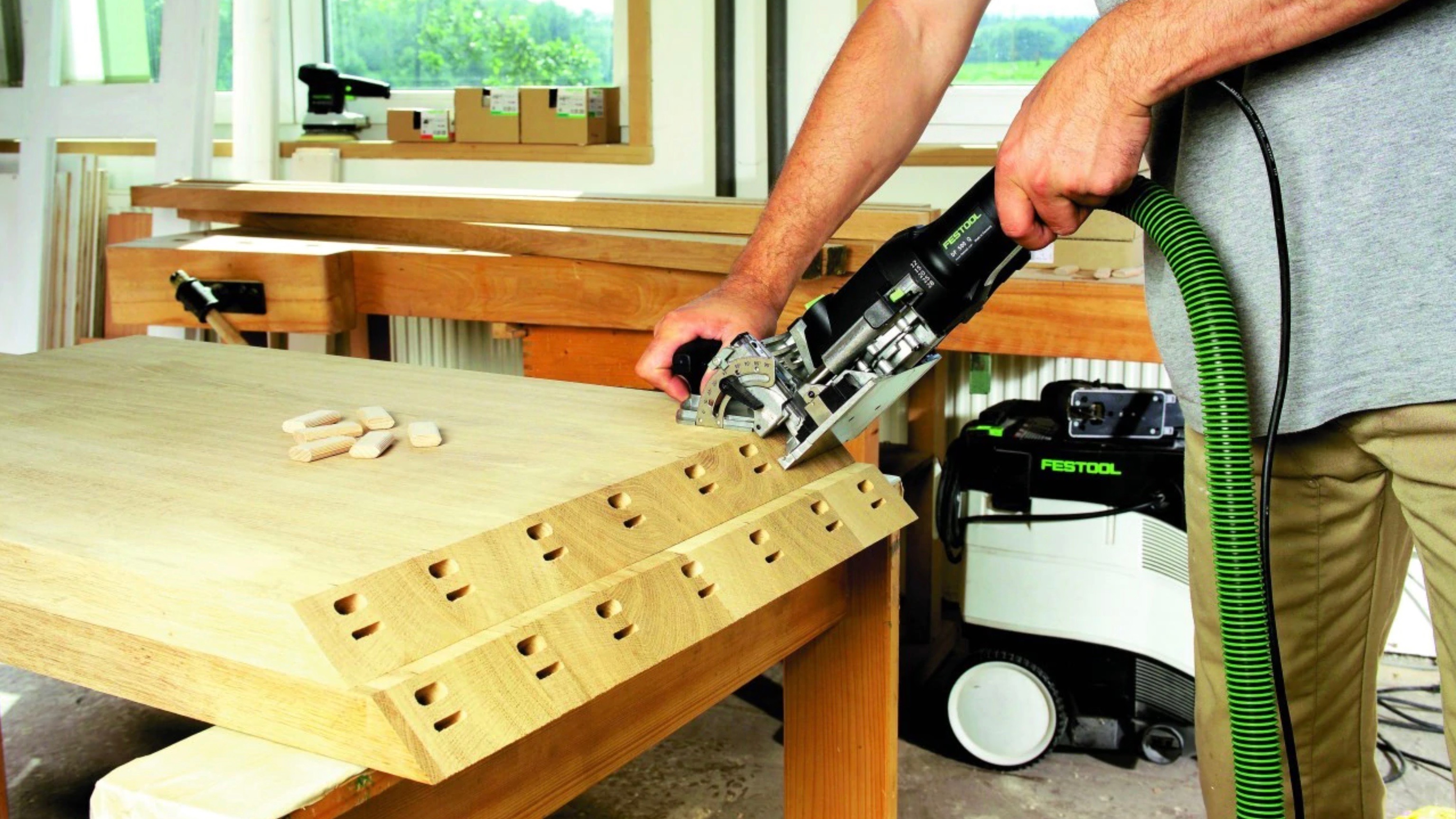 3. Which Festool Domino accessories are worth it?
There are many excellent options, but we highly recommend the products below. Many of our customers have found these Festool Domino accessories to be the most useful when expanding their workshop:

Your Trusted Festool Experts Are At Shop USTF
Festool has been one of our favorite brands for a long time. We keep all of our customers' favorite Festool Domino products in stock. Not every project needs a Festool Domino XL, but if you think you might have one, don't be afraid to ask whether the XL or the DF 500 is the right choice.
Do you have any questions about ordering? Contact us for a demo, and we'll book you for a live demonstration at our US Tool and Fastener store. You can check out our top tools, including Sjobergs workbenches, Powermatic drill presses, and Shaper Origin routers. Try out our latest Festool releases in person at our Worcester, MA, location.
You can also follow us on Instagram for the latest shop tools and tips on finding the best woodworking accessories!