The Festool Conturo is Festool's answer to a glaring chasm in the edge bander market: that gap between cheap, handheld edge-banding tools and expensive, industrial-grade stationary edge bander machines. With the Festool Conturo, we finally have a small, portable Festool edge bander that delivers the performance and precision of a large, stationary edge bander machine.
So how did Festool do it? Let's look at the features and accessories that help the Festool Conturo deliver "the perfect edge."
Bring the Festool Conturo Right to Your Worksite
The Festool Conturo has several conveniences that make it possible to glue, affix, and trim edging on any shape of panel materials without moving the workpiece anywhere. Everything can come right to the project.
All-in-One, Wherever You Bring It:

You won't need a separate gluing or trimming station with the Festool Conturo—it handles banding, trimming, and adhesive application all at once. The adhesive system is completely contained within the tool and safely dispenses heated glue onto the banding as you install it.

Revolutionary Gluing System:

Many portable edge banders lack an efficient system for dispensing heated glue and banding material. The Festool Conturo uses an electronically-controlled adhesive system with glue picks, a heat grid that melts what you need, and a rapid switching system for multiple colors.

Ergonomic Handheld Design:

The function-driven shape of the Conturo is comfortable in hand and easy to maneuver, with a compact, balanced center of gravity.

Edge Banding Trimmer Accessory

:

This portable trimmer can come packaged with a complete Festool Conturo set and cut edge banding or create circular seams up to 65mm high and 2mm thick! Trim both left and right edges to identical standards as you go.



A portable edge bander makes jobs with extremely long strips or irregular curves much easier than a stationary system. The Festool Conturo can apply banding to curves with inner diameters as small as 2" or outer radii as small as 1" with no changes to the machine. Slow down the adjustable speed setting with a button, and speed up again when you get to a straight edge.
Or Set Up a Workstation Right in the Shop!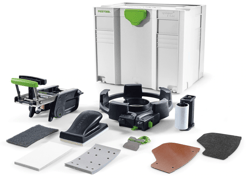 The full Festool Edge Trimming Set has everything you need—a Festool edge bander reel, extra roller, scraper, StickFix Base kit, polishing materials, and more—to create a complete edge-banding workstation.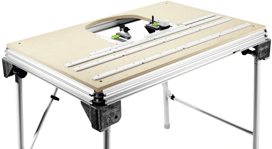 The Festool Conturo is easy to convert into a stationary edge bander, either by building a suitable bench where you can clamp it or using the Festool Conturo Table Set. This mountable work table is perfect for edging small materials and beveled pieces that are easy to manipulate by hand. Use the preset detents in the mounting bracket to work at a range of common angles.
For mitered edging, loosen the clamping screws on the Festool Conturo and adjust the tilt until the angle scale matches the miter. You can also loosen or even unscrew the guide plates to allow for hand-guiding irregularly shaped workpieces along the edge roller. We recommend Kreg clamps for this application.
Festool Conturo Is the Best of Both Worlds
The Conturo is a perfect fit to fill the gap between the extremes of a massive, industrial-sized machine and a low-cost, handheld solution. With the Conturo, you get a professional-grade Festool edge bander with a cost-effective, portable setup—or a stationary edge banding station in the corner of your shop!
Power Tools for All Levels of Woodworking Experience
Questions about ordering? Contact us for a demo, and we'll be happy to book you for a live demonstration at our US Tool and Fastener store. You can check out our top tools, including Kreg AccuCut, Shaper Origin, Sjobergs workbenches, and the latest Festool releases. Try out our Rotex sanders or the TS 55 FEQ Track Saw in person at our Worcester, MA location.
Make sure to follow us on Instagram for the latest shop tools and tips on finding the best woodworking accessories!