The pros and cons of shopping online are many. While convenient, the online shopping experience can also feel detached and lack the personalization consumers tend to gravitate toward. Thankfully, there's a way to combine the convenience of an online tool store with the professional personality of a local tool store.
If you're looking for a way to purchase the best remodeling tools on the market from the comfort of your home, without sacrificing the personalized experience found in a local hardware shop, then our team of experts at US Tool and Fastener are here to help.
What Does the Local Tool Store Experience Look Like?
Walking into a local tool store is a very specific experience. The doors open and you suddenly find yourself in a world of woodworking tools and equipment of all shapes and sizes. There are table saws down one aisle, and angle grinders down another.
When you boil it down, however, walking into a local tool store is a valuable experience because you not only have easy access to all the remodeling tools you could ever need, but you also have immediate access to the kinds of professionals who can help you make the right purchase at the right time.
Online tool stores offer variety and convenience, but often miss the mark when it comes to customer service. Buying tools with US Tool and Fastener is different. If you're one of the many people looking for that "local store experience" but the convenience and variety of shopping online, then USTF is the place for you.
Benefits of Buying Tools Online with USTF
Here at USTF, we pride ourselves on our ability to equip our customers with the tools they need and the buying experience they want. We have a trained staff of experts who are not only a phone call away but every time you call in you speak to a real person!
We also have a built-in live chat feature on our website, so if you're browsing our selection of Festool dust extractors and have a question, we're only a simple message away. And with 20+ years of experience in the industry, each of our experts is uniquely capable of answering questions and managing requests quickly and efficiently.
The local tool store experience isn't going anywhere—we have a fully stocked showroom here in Worcester, MA—but not everyone has access to a brick-and-mortar store that can provide them with the tools and equipment they need. Here at USTF, we offer hundreds of professional-grade tools from some of the best brands in the business. If you are in our area please stop in Monday-Friday 8:30 AM - 5 PM.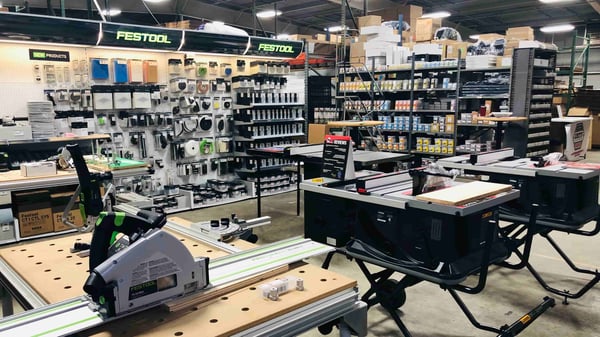 Do you need a cabinet saw for the job site? Then check out our collection of SawStop products! Are you looking for one of the best remodeling tools on the market, but don't know where to start? Then contact us today and book a demo with one of the Festool RO 150 FEQ Rotex Sanders we offer! Our Demo Zone offers you a chance to get hands-on with the tools. And if you can't make it to our Demo Zone, all of our staff have been trained on the machines we have in stock!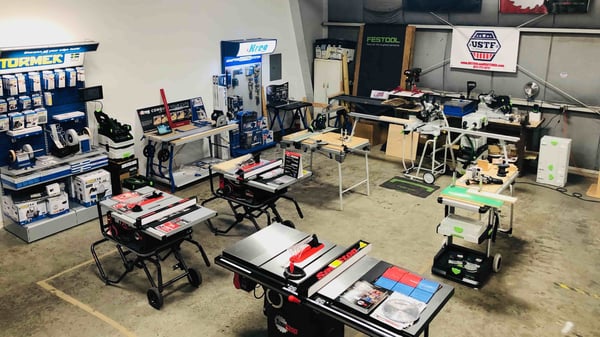 USTF is proud to offer our customers the local store experience they're missing without needing to leave their house. If you're ready to revitalize your collection of woodworking tools and equipment or are curious about some of the newest Festool products on the market, then stop by or reach out to us today!